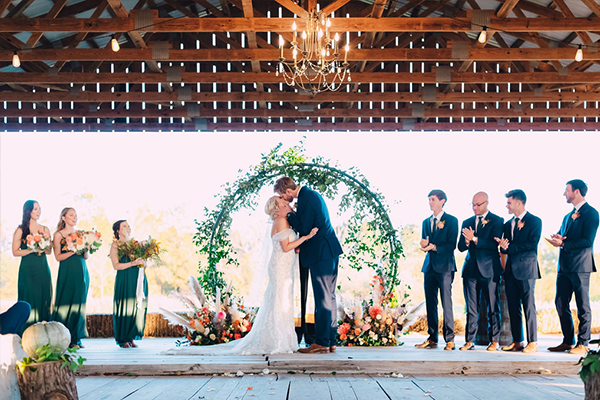 The Tobacco Barn was recognized by Rustic Bride as one of the top 48 historic barns in the United States to get married. The barn was built in 1952 and served as the Shepherd family's cattle and tobacco barn until 2005. In 2012 the barn was converted in the wedding venue that it is today. For your wedding day, there are two barns, the tobacco barn for the reception and the chapel barn for the ceremony.
The two barns have that vintage and boho feel while providing a nature lovers setting. If you are a nature lover, then the Tobacco and Chapel barn is the place for you. Both the Chapel and Tobacco Barn sit in open fields surrounded by amazing views.
The Chapel Barn has white church pews for your guest as well as two different arches or a wooden cross to use. A white door with white lace curtains provides a great backdrop for your grand entrance. There are Edison bulb string lights and a crystal chandelier that bring an elegant feel to the open chapel barn.
The reception barn has round tables and champagne colored Chiavari chairs, bathrooms for your guest, a bar area and kitchen for your caterer. There are three wooden spools, a white antique wood table and wooden doors, all to be used however you want for additional décor for your wedding day.
On the back of the barn a deck for hanging out and a 150-year-old stone fireplace which is perfect for your guest to gather to have s'mores or just hang out when the evening gets cool. There are 5 antique crystal chandeliers and string Edison light bulbs in the reception barn that creates that fairytale feel.
For the groomsmen there is a Man Cave to get ready in and hang out with a PlayStation, and fridge. For the ladies, there is a nice big roomy cabin provided for the bridesmaids to get dressed for the big day.