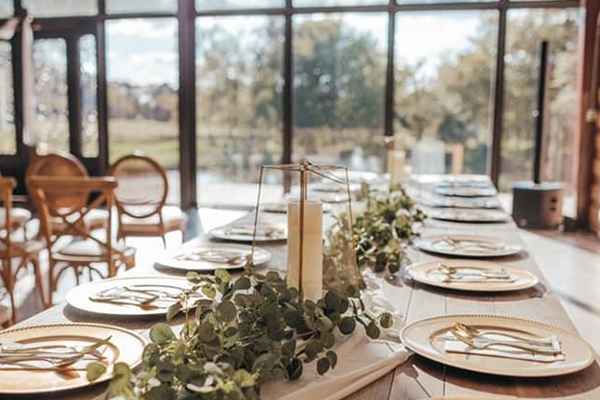 Keith Glen is our newest venue at Burdoc Farms built in 2016. Keith Glen is an industrial and modern building with a 30-foot wall of glass from floor to ceiling which looks over a pond with a lighted fountain and our resident swans Georgie and Gracie! Keith Glen sits in a grove of several 100-year-old trees surrounding the building which gives it a woodlands feel. This year-round venue provides air-conditioning in the summer and heat in the winter so no matter what time of year you get married, you and your guest will be comfortable.
Outside under the trees is a concrete pad for your ceremony with a choice of two different arches, wooden benches and white folding chairs for your guest. The ceremony pad faces the pond so you and your guest can enjoy the sounds of the fountain and nature as you exchange your vows.
Inside Keith Glen there are wooden farm tables with natural wood chairs. Exposed red iron beams, natural wood walls, chandeliers, a stone fireplace and a walnut Amish-built bar with a cool copper top creates that industrial look for your wedding day but there are still many natural features that don't let you forget that you are on a 700-acre family farm.
Upstairs are dressing rooms for the groomsmen and for the bridesmaids, with a balcony for the wedding party to hang out.