Christian County Kentucky will be in the epicenter of the total eclipse of the sun on August 21, 2017. Not only that but North Christian County will be the center of the longest duration of the eclipse that was last seen in the United States in February, 1979. Christian County can expect at the least 50,000 people visiting the county for the historic event.
Burdoc Farms plans on having many fun and family events the weekend of the eclipse as well as prime viewing spots. Burdoc Farms is the second highest spot in Christian County so we expect the viewing to be fantastic.
Keep visiting the website as we update the events we will be planning for this event. If you are interested in camping, you can contact us now, info@burdocfarms.com about camping spots.
Follow Solar Eclipse Hopkinsville 2017 on Facebook:
https://www.facebook.com/HopkinsvilleEclipse2017?fref=ts
Update: June 5, 2017
The following is a list of activities that will be available at Burdoc Farms for the Total Solar Eclipse. In order to make reservations for any of these activities please contact Sara Shepherd by phone 270-348-1483 or email burdocfarms@hotmail.com.
*Primitive camp sites are availble for tents and RVs. Spaces are limited so you should call to book as soon as your party is ready. Spaces are being sold for the entire weekend August 18th-August 21st. To recerve tickets at Burdoc Farms go to this link…
https://burdoc-farms-weddings-and-events.ticketleap.com/solar-eclipse-festival-at-burdoc-farms/
Friday August 18th:
Primitive camping
Line dancing
Outdoor movie
Saturday August 19th:
Primitive camping
Bash at Burdoc: Bluegrass Festival
This will be the start of our first bluegrass festival! Come join us for great music, local food, and local brews!
Artists for this years' festival include:
Mikaya Taylor
NewTown
Nightflyer
The Wooks
Russell Moore and IIIrd Tyme Out
Click on image below to be directed to our ticket website!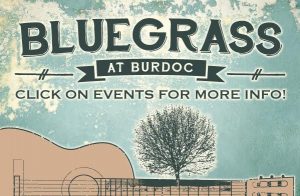 Sunday August 20th:
Primitive camping
Sunrise Church Service (non-denominational) in the Chapel Barn- catered breakfast option available
Kentucky Proud Product Vendor Fair and food trucks
Family movie night
Monday August 21st:
Primitive camping
Total Solar Eclipse Viewing
Check out all these events at the 2017 National Eclipse Website….
http://nationaleclipse.com/events.html#kentucky